Pro-Ject Debut III S Audiophile turntable

The Czech company beefs up its most popular turntable range with a deck boasting a sophisticated motor system and new S-shaped tonearm. Then there's the new logo…Recently I found myself chatting with a fellow hi-fi nut about the sheer number of turntables currently available. We discussed a few of our favourites and his final comment was: 'Yes, a great selection; although about half of them are made by Pro-Ject!' While we chuckled, I couldn't help thinking he had a point. In fact, as PM discusses in our Vinyl's Big Beast sidebar, Pro-Ject truly dominates both the direct and OEM markets.
Not since the late '70s, and the bewildering array of turntables to be found in the Technics catalogue, has one manufacturer offered such a wide range of models. The latest sub-series to be augmented is the Debut Line. Not content with the Debut S/E3, Carbon DC, Carbon Esprit SB, Carbon Phono USB, RecordMaster and Carbon RecordMaster Hi-Res, Pro-Ject has now introduced the £325 Debut III S Audiophile, which is distinguished by being fitted with a new S-shaped tonearm.
The turntable is also further evidence of a gradual move upmarket for the entire range as it must be remembered that the Debut designs were originally Pro-Ject's entry-level offering. Now they sit above the likes of the Elemental and Essential models.
Brand New
The newcomer also introduces a few other new features, the most obvious of which is a fresh company logo. This graces both the turntable's plinth and dust cover and its arrival heralds some changes at the company, including the opening of new headquarters in Austria. These are located in Wilfersdorf, just north of Vienna, and comprise offices, a shop, listening rooms and a vast new warehouse. In addition, Pro-Ject's main turntable factory in Litovel, some 170km away in the Czech Republic, has been further modernised.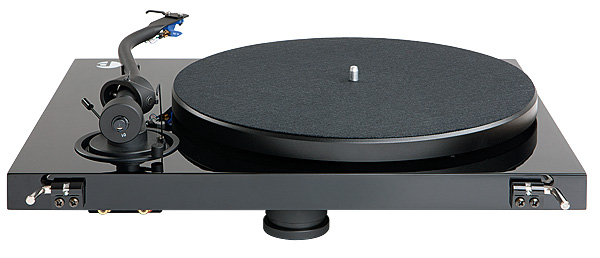 The Debut III S Audiophile is based around a superbly finished gloss plinth, which is available in black or white. The sub-platter features a stainless steel bearing shaft that spins in a brass housing and is driven via a flat belt from the motor. The main platter sits directly atop the sub-platter, is 300mm in diameter and is pressed from steel. A felt mat is supplied though, arguably, it's not wholly successful at damping the naturally metallic 'sound' of the platter – but more of this later.
The motor is actually a synchronous AC type, despite motive power being delivered by a 15V DC 'wall wart' PSU. The PSU feeds a synthesiser inside the deck that generates a stable AC waveform for the motor. In many ways, this system combines the best of both worlds. Synchronous AC motors are generally less prone to speed wander than their basic DC cousins, but the generation of the drive signals onboard the deck removes the influence of mains disturbances. It's a neat solution and all credit to Pro-Ject for using it on such an affordable design.
Shape Shifter
If there's a downside it's that the motor runs at a single speed. This means that in order to change speeds the user has to manually move the belt to a different pulley step on the motor's spindle. That said, Pro-Ject does provide a tool for this purpose, to minimise the risk of the belt being contaminated by greasy fingers.
The S-shaped alloy arm has an effective length of 8.6in and is a one-piece design with the end of the tube effectively 'flattened out' to form the headshell. It was easy to set up and fine-tune, aided in part by the clear instructions. The adjustments available even include azimuth, as the armtube can be rotated about its axis in the bearing housing after loosening a screw, which is a convenient facility.
The arm comes with a moving-magnet cartridge pre-fitted, which is another newbie from Pro-Ject, but currently only available as part of a turntable package. Called the 'Pick it 25A', it has been designed for the Austrian company by Ortofon and is based on the popular OM10 model. Changes centre on the internal coils, with silver wire being used for the Pick it 25A, which Pro-Ject says: 'Opens up the transparency of the cartridge and offers better quality and dynamics'.
The deck's output is via stereo RCAs at the rear of the plinth and Pro-Ject supplies a 'Connect it E' cable to get you going. This normally retails for £45 and is said to use high purity oxygen-free copper conductors.
The final new feature is to be found underneath the turntable in the form of three feet made from aluminium and TPE (Thermoplastic Elastomer), which claims better levels of insulation against vibration. The feet are adjustable for levelling the deck and also have a pleasingly chunky and purposeful appearance. More exotic feet such as these are usually found on more expensive decks, though I tend to be of the opinion that they make more sense on budget designs, since these are less likely to find themselves sat on a proper audiophile support.
Puppy Love
The Debut III S Audiophile turns out to be aptly named. While many decks at this sort of price level are thoroughly enjoyable to listen to, ultimately they can sound a little rough around the edges. Not so this turntable, which offers a poise and sophistication that belies its price tag. While it has absolutely no problem bounding along like an excited puppy when the mood takes it, there is an underlying couthness here that makes it sound surprisingly grown-up and authoritative.
Bass performance was impressively weighty which, again, puts it a step ahead of its peers. There is a caveat here, however. While I initially found myself enjoying the deck's delivery, at times I couldn't help feeling that the low-end sounded a little fruitier than I would have liked, bass notes occasionally outstaying their welcome – even if by a shade.
Having encountered this problem with other designs, I found myself pointing a finger straight at the mat and platter. With the supplied felt mat in place, the platter responded to the fingernail flick test with a firm bell-like tone. In short, there was little difference in the platter's ringing with or without this thin felt mat.
After rummaging in my vinyl toolbox for a Pro-Ject 'Leather it' (leather) mat, and swapping the supplied felt item for this, the platter now responded with a dead 'thunk' when tapped with a fingernail. The result was that bass lines now sounded much tighter and better defined and the low-end overall gained greater solidity and confidence. What's more, upper bass now enjoyed plenty of detail and tautness, ensuring nothing sounded lightweight.
Jessie Ware's 'Your Domino' from her Glasshouse LP [PMR/Island Records 602557947137 PMR 114] bounded along with verve and enthusiasm and the deck kept all the key bass details under firm control. Even better, the bass guitar on the title track of Donald Fagen's Morph The Cat LP [Reprise Records 9362-49975-1] sounded beautifully deep while boasting bags of warmth and no blunting of perceived 'timing'.
Across the midband, the deck also did a very fine job of capturing instruments and singers vividly. Budget designs can often blur the finer aspects of the soundstage somewhat, but the Debut III S Audiophile separated individual singers and performers surprisingly well. Imaging was good and presented a plausible depth perspective, giving a fair sense of atmosphere to recordings.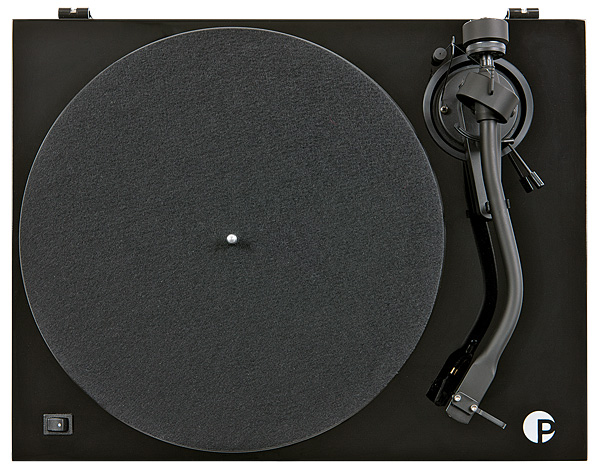 True, in absolute terms the lateral perspective of the soundstage was somewhat curtailed and central image stability could have been stronger, but at no point did I feel short-changed by the deck's presentation. More than once I had to remind myself that this turntable carries a three-figure price tag, and well below £500 at that.
Silver Sparkle
Special mention must be made of the new tonearm, which is also a well thought-out design. The more mechanically lively arms used on some older budget Pro-Ject decks had a tendency to impart a sense of imprecision to the treble. The effect was a blurring of top-end detail and a slight splashiness to sibilants.
I detected rather less of either when listening to this 'Audiophile' version of the Debut deck [see PM's Lab Report]. 'Uncertain Smile' from The The's Soul Mining album [Epic EPC 25525] highlighted this perfectly, its rather messy production values brought well into line by the Pro-Ject package.
In combination with the arm, the newly developed moving-magnet Pick it 25A cartridge also appeared to be working its magic. I'm very fond of the old Ortofon OM series but am well aware that these pick-ups can sound a little soft around the edges. Not so the Pick it 25A. Those silver coils bring just the right amount of sparkle to proceedings, without ever straying into harshness. As a result, violin strings were vivid but without screech, while the cymbals backing The Eagles' 'Outlaw Man' on their Desperado album [Asylum Records SYL-9011] rang out strongly before shimmering delicately off into the distance.
Out of curiosity, and as a way to compare the sort of cartridges previously used on Pro-Ject's more affordable designs, I went back into my vinyl toolbox and retrieved an Ortofon OM10 cartridge. While the rich, smooth tones of the OM10 pick-up were like an old friend, with this fitted to the Debut III S Audiophile, the sound became a little soporific and lost its sense of keen musicality.
As a result, I'd definitely stick with the supplied Pick it 25A moving-magnet. Once again, Pro-Ject has shown itself to be a master when it comes to balancing its packages as this new cartridge gels with the tonearm and deck superbly.
Hi-Fi News Verdict
While the scope of Pro-Ject's Debut range is already daunting, the Debut III S Audiophile is still a welcome addition to the series. It takes the best of the existing models and adds a dash of extra sophistication and poise, the result being a convincing package that has clearly been properly thought through. The whole is already greater than the sum of Pro-Ject's parts, but be sure to budget for a better mat.