The Dayton Audio DTA-1 has the footprint of a roll of paper towels, but is rated at 15 watts per channel RMS into 4 ohms @ 10% THD. At lower levels of distortion, it's got a claimed 10 watts at 0.1% THD. Not bad, even if that is only 5 watts per channel into 8 ohms (maybe). In reality, most audio listening is done at 1-3 watts, so 5 should be plenty for a small system, right? I don't know, but it's so cute I'm looking forward to finding out.
You can't tell from the pictures, but the rubberized texture of the DTA-1 belies its price. The overall fit and finish is surprisingly good for such an inexpensive product. It doesn't even look bad sitting on a table between two speakers. On the back you get spring clips for the speaker wire (and these are rather small, so you won't be hooking up your 8 gauge speaker cable to this one). There's only one input, a stereo 1/8th-inch jack. An 1/8th to 1/8th cable is included so you can hook up your iPod or laptop or whatever right away. Nice thinking.
There are two options to power the DTA-1: eight AA batteries, or the included switching wall wart.
POWER!!!!!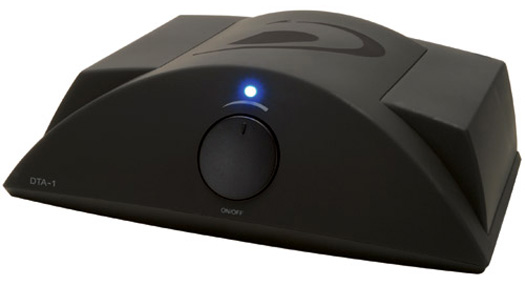 The DTA-1 is a Class T amplifier. Class T is a modified version of a standard Class D amp that varies its switching frequencies depending on output power. Class T amps, like their Class D brothers, are highly efficient and light weight, giving rise to amps like the DTA-1.
Using some vaguely un-scientific methods (namely, my iPod and a Radio Shack SPL meter), I measured 96dB with a 1kHz tone at a distance of 1 meter. This is pretty good as the speaker I was using has a measured sensitivity of 84.5 dB at the same distance for the same frequency. There was a slight drop running both channels, but not a huge amount. With actual music it's going to be a lot lower. I measured in the mid 80s with white noise, which is more like the volume they played during my listening tests.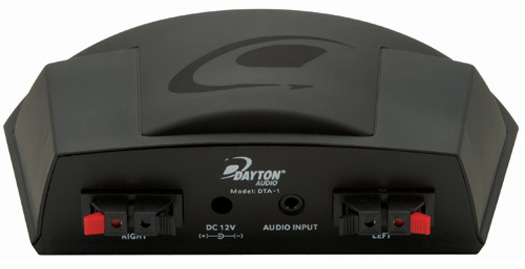 My first selection was "If I Ever Leave This World Alive" by Flogging Molly from their Drunken Lullabies
 album. This song starts fairly light with guitar, mandolin, some singing. As it goes on, it gets bigger and bigger, with the whole band joining in. The DTA-1 was able to drive the speakers to produce some decent bass, while at the same time never having the bite sometimes associated with inexpensive amplification. Towards the end of the song, when everything's going, there was some slight distortion at max volume. Turning it down very slightly alleviated this without impacting overall SPL significantly. It was also a little compressed, but given the price and nature of the amp, this was totally forgivable.
For female voices and overall atmosphere, I like Radka Toneff's "The Moon Is A Harsh Mistress"
 from her Fairytales album. Like the Flogging Molly track, the treble was clean with no hint of grit.
There wasn't a lot of pop, or ability to accurately reproduce quick transients. "La Barrosa"
 from Paco De Lucia's Live in America album is a great test for this. The quick bursts from De Lucia's guitar (strings and otherwise) were fairly flat on the DTA-1. Again, not a big deal and not surprising given the price.
Max volume, as you'd expect, is the DTA-1's Achilles' heel. Even with really efficient speakers, there is only so much a few watts can do. That said, you'll have no problem filling a room with sound at a decent listening level.  And if you really only care about nearfield listening from a computer, then this lack of power is unlikely to be a major factor.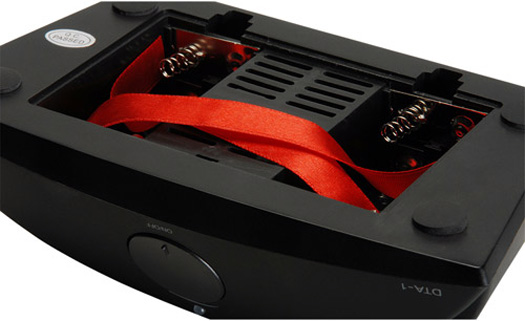 Using batteries was another story. Even though output tests like those above remained very similar, it was clear listening to music that the amp couldn't handle quite the same volume levels as when plugged in. More distortion was evident at max volume. As far as battery operated amps go, though, you're still getting a lot more, and better, sound than you'd expect.  So if you want to create a portible system with some speakers you already have, the DTA-1 can fulfill that role very well, though it's even better plugged in.
Turn-Ons:
Fantastic Price
Surprisingly clean sound
Great feel
Annoy your friends with the awesomeness of your $60 amp
Turn-Offs:
Not terribly loud, but come on, it's $60!
Blue LED power light is really bright
Speaker spring-clips almost comically small
Final Thoughts
I have to say, I love the DTA-1. It's inexpensive, yet still does a great job at what it was made to do. It's obviously not for everyone, but it fills its niche perfectly. Who knew you could get decent sound from a $60 amp?
Buy the Dayton Audio DTA-1 via Parts Express:
Manufacturer's Specifications
2 x 15 watts RMS (into 4 ohms @ 10% THD)
2 x 10 watts RMS (into 4 ohms @ 0.1% THD)
Efficiency: Greater than 88%
Dynamic range: 102 dB
Dimensions: 2″ H x 6-1/8″ W x 3-3